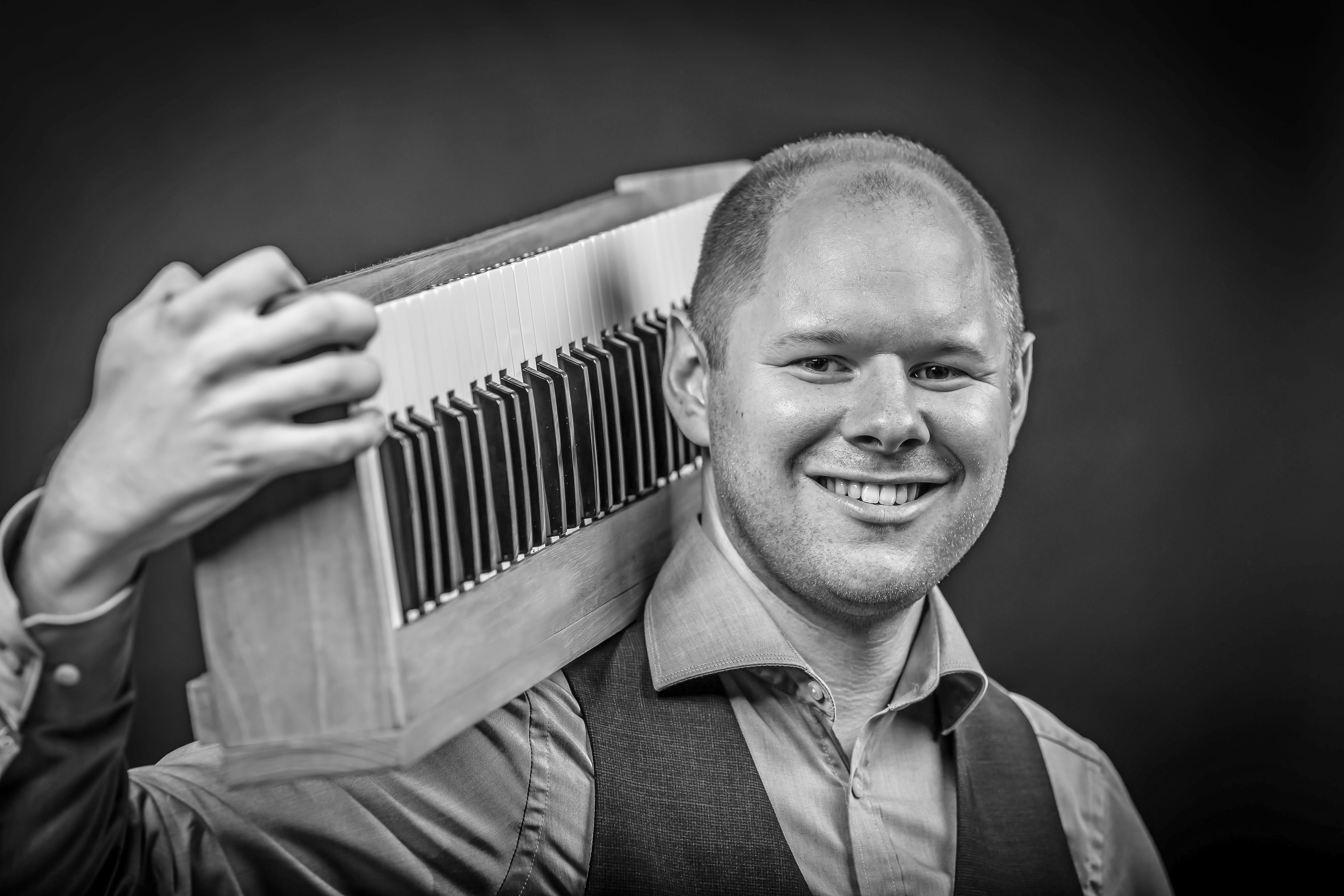 Born on July 5th, 1991 in Oberviechtach/Germany, I grew up in my home town Schwarzhofen/Germany and discovered my passion for music at an early age.
At the age of seven my instrumental-musical education started at the Civic Music School in Neunburg vorm Wald/Germany. Finishing five years of keyboard lessons from Alexandra Zettl I started my piano career with music teacher Barbara Nutz who also happens to be school principial. Furthermore I also took guitar lessons from Gerlinde Heigl and Cyrus Saleki.
During my school days at the Ortenburg-Gymnasium Oberviechtach I got trained by piano teacher Stefanie Jehl and Stefan Schäufl. At this school I also took organ lessons from Johann Bock. After graduating in June 2010 I am still connected to this school, so I occasionally contribute to some music events.
In October the same year I started my studies of Management Information Systems at the University of Applied Sciences Regensburg, but every now and then I take some piano lessons from Franz Prechtl, a lecturer at the Hochschule für Katholische Kirchenmusik in Regensburg. As of March 2014 I graduated from University of Applied Sciences Regensburg with Bachelor´s degree in Business Computer Science (B. Sc.). Hereinafter I am going to start my studies for Master´s degree with the same major at the University in Regensburg.
During my practical semester (winter 2012/2013) in California I was granted access to Sunnyvale Presbyterian Church in order to continue my organ training abroad. I want to thank organist Dr. Valerie Sterk for her great hospitality. Highlight in terms of music during my stay abroad was the Organ Pavillion at Balboa Park in San Diego. Organist Dr. Carol Williams offers a public concert every Sunday. After the concert I got the chance to play on this world-famous and also biggest outdoor pipe organ in the world. Pictures are available in the gallery.
In the years 2008 – 2011 I achieved several prizes for piano at the competition "Jugend Musiziert". Highlight was the participation at the State Competition for State Bavaria in Garmisch-Partenkirchen/Germany. I want to thank my parents for their support as well as Stefanie Jehl and Franz Prechtl for the superb preparation and training. Further plans include my last participiation at "Jugend Musiziert" in 2015. This time I am going to start in category "Organ solo".
I finished my Bachelor´s Degree in March 2014 and started my Master (M.Sc.) Management Information Systems right after at the University of Regensburg. Besides that I was still organist (mostly in Dieterskirchen) and always stuck with music.
Mid-2014 some new ambition grew up and so I set my mind on participating again at "Jugend musiziert", this time with the organ. Therefore I took private organ lessons at the College of Catholic Church Music in Regensburg and was taught by Franziska Weiss, a Master´s student for Instrumental Organ Eduction (Prof. Stefan Baier). She did a great job and gave me a lot of helpful advice for the competition in February where I achieved a 1st Prize with forwarding. On March 27, 2015 I was able to win a 2nd prize at the State Competition where the best amateur organists from Bavaria met.
In March 2016 I have finished my studies as Master of Science (M.Sc.) Management Information Systems at the University of Regensburg. Since May 2016, I´ve arrived in working life.
After many competitions and regular church services I wanted to meet new challenges like planning an own concert together with other musicians. This is how the ensemble "Kaleidoskop der Musik" has evolved – an amalgamation of three families of musicians, which has staged the concert series "Sorgenfrei Meets Lottner" for the third time now.
In 2016 another mammoth project full of heart and soul has been started. Within one and a half years my father and I have built the "Digital Concert Organ" (DCO) – a revolutionary organ for mobile and flexible usage. In February 2018, this innovative instrument has been used in concert and presented to the public for the first time.
Version: 2018/08/16